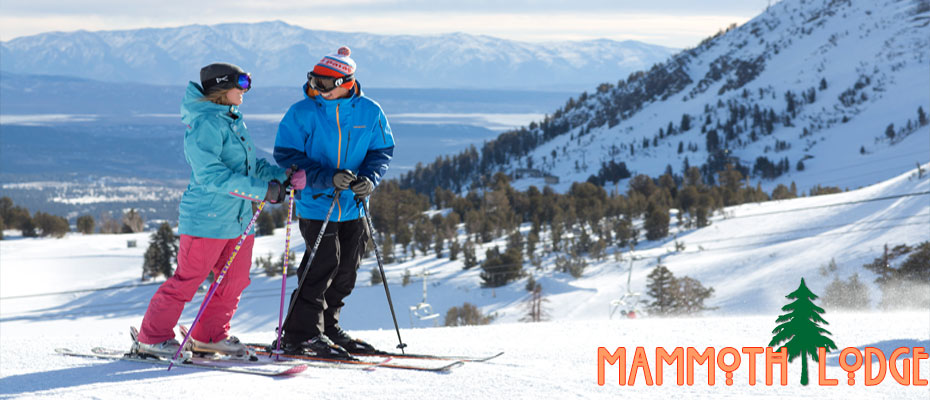 Winter Activities In Mammoth
Skiing at Mammoth Mountain, playing in the snowboarding terrain park, working out at Tamarack Cross Country Ski Center, or heading over to Mammoth's sister resort, June Mountain ski resort makes a visit to Mammoth Mountain a great place if you love the mountains. 35% of the visitors in winter don't even ski or snowboard. That is because there are many things to do.
Mammoth Mountain gets about 325 days of sunshine each year, and even when it snows... and it snows a lot... the sun seems to always come right out. Mammoth Mountain is the biggest of all the California ski mountains with the most runs, terrain and pitch. It is also highest making the season start earlier around November 14 and last until at least Memorial Day and sometimes as long as July 4. Guests can ski, ride bikes, mountain bikes, sled, snowboard, fish, hike and site see all spring long. Mammoth Lakes is truly a destination resort.
Mammoth lodging surrounds the ski resort, and no matter where you stay, you will be close to activities and the slopes. Since the town is so small, it almost doesn't matter where your lodging is at as all the activities listed are very close by.
Mammoth prides itself on having special events at Mammoth Mountain all winter long. Come when you can, and stay an extra day to get the most out of your vacation.
The best way to purchase lift tickets is online. You'll save up to 30% on multi day ticket. There is easily 3 days worth of skiing at Mammoth on any vacation. Plan on getting your Discount Mammoth Lift Tickets in advance. There are always limited quantities so when you see them, buy them.

Save 10-20% on ski rentals. Waiting in lines at Mammoth Mountain to get your ski rentals is past tense. Order your skis online and have them delivered to your door from our partner who has the best ski rentals in Mammoth so you'll have more slope time. Ordering your skis ahead of time ensures you'll have them ready to go when you arrive. Convenience is everything.

Nothing beats the wind in your hair, the thrill of speed and the varoom of driving your own snowmobile through the fores. You can rent snowmobiles in Mammoth during the winter months and drive them on the open road. Book this activity well in advance as there are very, very limited rides available.

Mammoth has an abundance of winter events during the ski season. Visitors often plan their vacations around the events when scheduling is flexible. Almost every weekend throughout there is live music, happy hour specials and fun on the slopes. But it doesn't stop there.

Opening Day Kickoff
Night of Lights (a must see) Holiday Start
January Midweek Madness
Slopestyle Board Competitions
March Madness Extended Stays
Canyon Lodge Pond Skim